Bookish New Year's Challenge Day 9
It's day 9 of the Bookish New Year's Challenge from Tabatha at Broken Soul Reviews — already! I can't believe how fast this challenge is going by. Today's prompt is the big debate — physical books or ebooks?
I personally make use of both, and there's pros and cons to each. I generally prefer physical books, but they aren't always the most convenient. Here's what I like and don't like about each:
Physical books
There's nothing in the world like the feel of a book in my hands, and the smell of a new book. When I'm reviewing a book, I tend to use tiny sticky notes or scraps of paper to mark quotes or plot points that I want to remember, but that are too long to write out. I love being able to stage my photographs for reviews as well.
However, books can be somewhat cumbersome to lug around. When I'm out of the house, it isn't always convenient to just whip out a book and start reading. Books don't always fit into my purse, and when they do, it makes it especially heavy to carry around. Plus, I'm not always in the mood to read what I brought with me.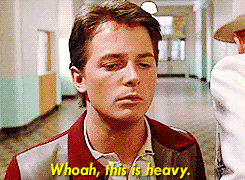 [man saying "Whoah, this is heavy."]
Ebooks:
My Kindle weighs 6.1 ounces. It holds thousands of books, which means I have access to a LOT of books at any given moment. Most of the ARCs I get are ebooks, so I grew to love the Kindle in a hurry. If I can't get to my library for any reason, I can download books right to my Kindle. Another awesome feature is that I can look up information on it. If there's a word I don't know, I can just tap the word and the dictionary or Wikipedia definition comes up. If there's a foreign word I don't know, there's translation available in most cases. I can read in any conditions, since the screen is lit, and the battery is pretty long-lasting. The font size is even changeable in most cases.
While I can take notes on the Kindle, it's more time consuming than just writing it down, unless there's an especially long quote. My Kindle works great most of the time, although like any other electronics, there are occasional glitches. Like the times when I go to flip a page, and it'll just flip a chapter and a half without stopping. But, just like tech support would say … have you tried turning it off and turning it back on again? When I do that, it always solves the problem, and it's only happened a few times anyway. Also, the batteries don't last forever, and it does have to get charged. Usually at the least convenient times, of course.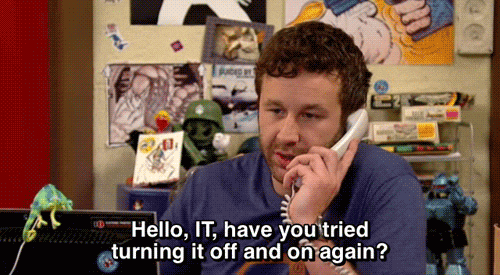 [man on telephone saying "Hello, IT, have you tried turning it off and on again?"]
Overall, I'm pretty happy with ebooks, but they'll just never replace a physical book for me. I guess it's the old school Generation X-er in me.
What do you prefer, physical books or ebooks?
#2020bnyc #bookish #newyearschallenge #physicalbooks #ebooks #debate #generationx #oldschool #bookblogger #booklover #bookreviewer